Book & pay online

Luxury 12-seater boats

To rent a boat there is no boating license required
Easy to operate

Quiet, 100% electric

Boat rental Amsterdam, Utrecht, Leiden & Haarlem
Boats can be started with your mobile phone

A rating of 5★ from TripAdvisor

It is often possible to extend your reservation during your trip
Book online
Book your own boat via this website. You can even book one for the very same day! You can drive on the canals within a few minutes.
Start the boat
You will receive an activation link via SMS, prior to departure, enabling you to start the trip. Also use your phone to deactivate the boat.
Enjoy your boating trip!
Be your own captain in one of our 100% electric sloops as you journey through the canals of Amsterdam, Utrecht, Haarlem or Leiden.
Sloepdelen member

Off-peak hours

Peak hours

More info
Amsterdam

€ 30.00

€ 40.00

Utrecht

€ 30.00

€ 40.00

Leiden

€ 25.00

€ 35.00

Haarlem

€ 25.00

€ 35.00
Spaarne Concert 2018
June 13, 2018
On july 7th the third edition of the Spaarne Concert will take place. This open-air concert on the spaarne in the heart of Haarlem is freely accesible and guarantees a day filled with great music. From orchestras to Big Bands and singer-songwriters, there is something for everyone. Take a boat, sail to the concert and revel in the enchanting atmosphere on and around the water. For more information check the website of the Spaarne Concert. Have fun on the water!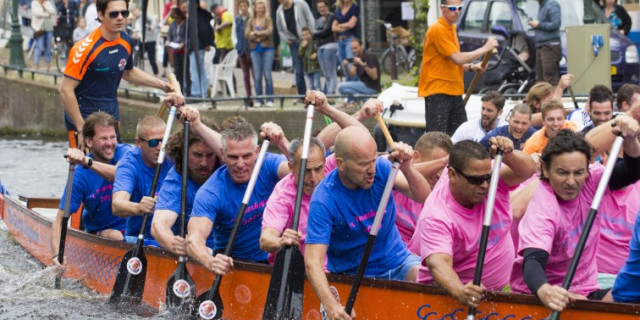 The Leiden Lakenfeesten
June 7, 2018
From the 21st until the 24th of june the "Leidse Lakenfeesten" will take place, a festival filled with performances, events and 'gezelligheid'. Throughout the whole city of Leiden there is a lot to do on and next to the water. Definitely worth taking a boat trip through the canals during these days. A public favourite during the Lakenfeesten is the Dragonboat race. Led by upbeat drums the zealous rowing teams will battle to be the first to push their dragonhead…